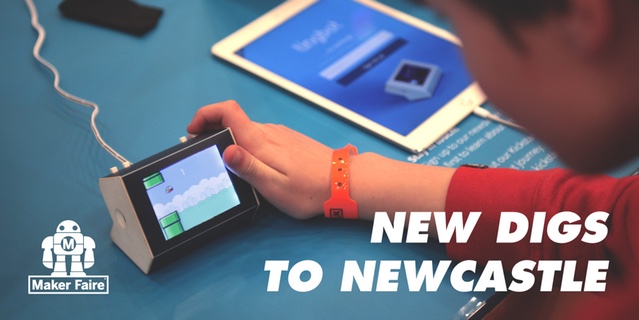 Hello Folks,
We have some exciting updates hot off the press so let's get to it!
The first piece of news is that Ben & I (Ken) have left our day jobs to invest more time in scaling Tingbot and our studio. It's a decision we've been mulling over for a while but ultimately we are passionate about turning the platform into something that we are really proud of and want to give it the time it deserves!
Today marks Day 1 of the new adventure (and new space)
ヽ(´▽`)/
Maker Faire and More bots
The first port of call for celebration is Maker Faire UK in Newcastle on Saturday 1st & Sunday 2nd April. To coincide with this we're going to be opening up our next bunch of Tingbots for Pre-order.
Yup that's right…
Tingbot Pre-orders are Live Sat 1st April 9am GMT on the Tingbot Store!
To pass on the joy we'll have a bunch of Pre-order discount cards on our stand at the faire. So please pop down for a chat, tinker with some 'bots and snag a discount card while your there :)
Ben will also be on a Q&A panel with Heather from Kickstarter on Saturday at Maker Faire. If you have any uncomfortable questions you've ever wanted to ask him, now's your chance…
##Winner Winner Chicken Dinner
In other news, big congrats go to JP (@jpmour) for winning a £50 Amazon voucher from the recent Tingbot Survey. We're hoping he can now get that thingamajig he's always wanted (whatever it may be!)
Thanks so much to everyone who sent in their replies. These were incredibly useful and it's already starting to shape the future of Tingbot. Oooooooh.
We can't wait for this next step in the Tingbot journey and are delighted to have you aboard!
- The Tingbot Team